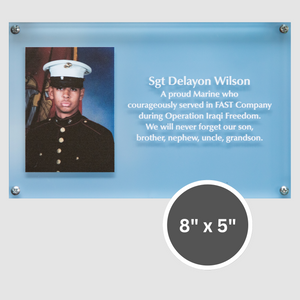 This tile is a 8" x 5" tribute. This size selection corresponds to a $500 donation. There are three other size tiles available for selection, as well.
How to personalize your tribute:
1. In the above section, enter the name, rank, and branch of service of your honoree and up to 200 characters of your choosing.
(Example: SGT Elijah Rao - In Honor of a remarkable son, brother, husband and father. Elijah we love you)
2. Click choose file to add a photo of your loved one. 
3. Add to cart and follow prompts to complete the checkout process
Questions or concerns, please email us at myhero@taps.org